May. 12, 2023
My weekend with Alice Cooper on the too close for comfort tour Mystic Lake Theatre Prior Lake, MN
via The Rock Pit
Full disclosure, I'm a big fan of Alice Cooper and have seen him live consistently since 1979. In fact, my very first concert was in Saint Paul at the infamous tear gas show. I can confidently say I've seen almost every lineup except for the original Alice Cooper Group. In my opinion this group of musicians are the most talented team he's had backing him up.
What impresses me most about Alice Cooper is his ability to still look and sound great after all these years. He still has the classic vaudevillian/shock rock to show that you've all come to know him for. With so many artists from his genre getting closer to retirement and calling it quits, Alice Cooper is not one of them. Not only is he going to continue to tour for many years to come, but he's also releasing new music on a regular basis. Another musician that you call a true artist because he wants to continue to make music is what he does.
Currently where fans are always arguing over final tour set lists or just set lists in general, Alice Cooper always seems to mix it up on every tour period of course there are always the staples like "Eighteen", "Under My Wheels", "Poison" and "Schools Out". But beyond those staples he's always mixing things up. A few songs he added to this tour that I've not seen him play in several years were, "Only Women Bleed", "Elected", "Snake Bite", "Lost in America" and "Cold Ethyl". As a big fan hearing these changes in the set list makes the experience even more exciting.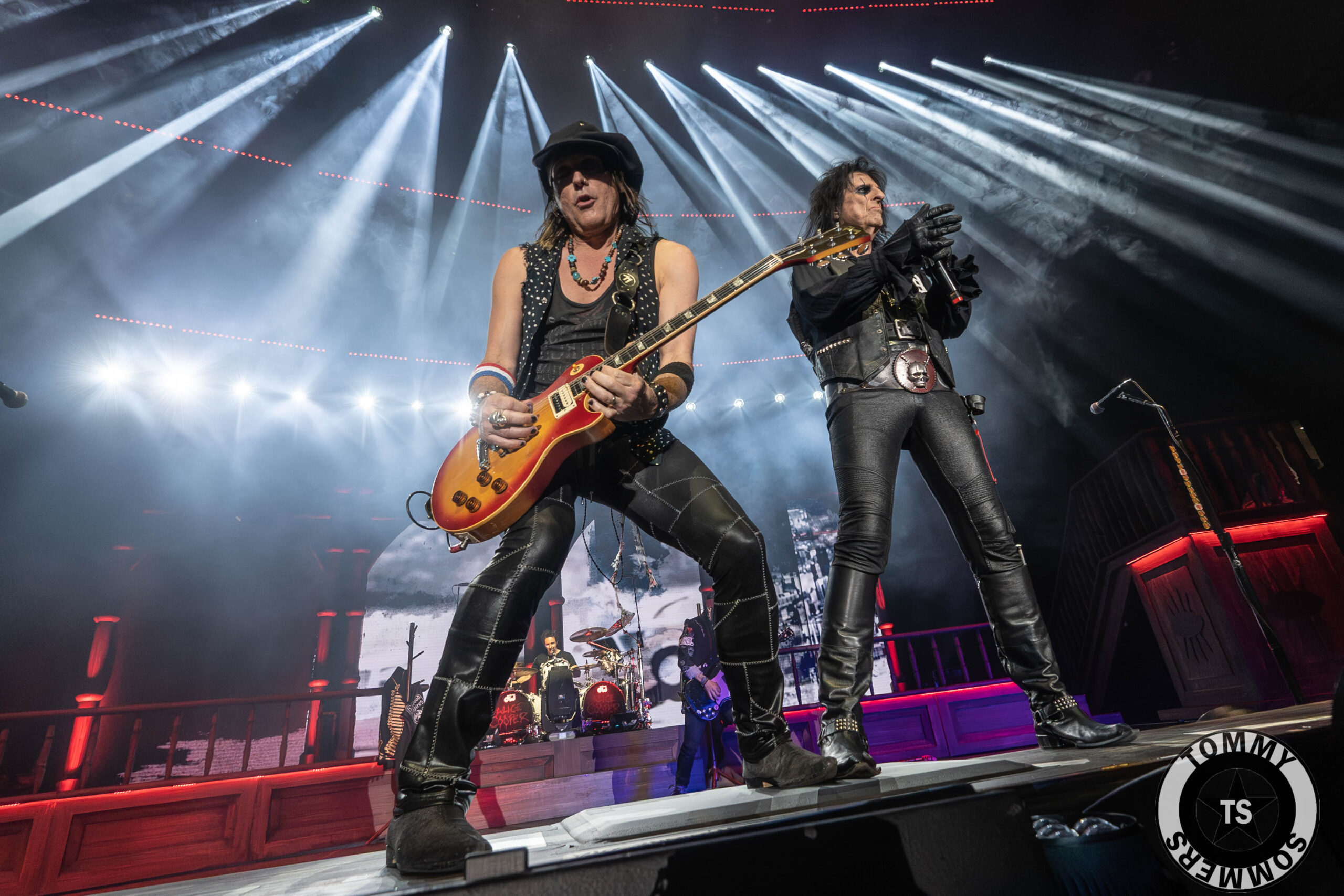 It's a completely new stage set as well. He retired the castle from the last tour and done something that I've never seen him do before, which is add video screens. It brings in a whole different element to the show. They're tastefully done in the back behind the drum kit and added to the show with video footage as live footage. It enhances the show but doesn't take it over. As always, the band is so incredibly solid with over-the-top musicians all individually incredible on their own. I think it's worth taking a few moments to talk about each one of them.
Tommy Henriksen from what I understand is the musical director. What's interesting is how all three of the guitar players will trade off solos throughout the whole show. He is an amazing entertainer and an even more amazing guitar player. Many of you don't know this but he can also sing! Tommy has a lot of other projects going on right now including being a member of the Hollywood Vampires that will be touring this summer in Europe. He is also working on some solo music that I'm hoping we will get a chance to hear sometime in the future. And a few other projects that he told me about that I'm hoping will come to fruition. He's a down to earth guy that has a great sense of humor. All these band members are incredibly kind and gracious.
Ryan Roxie is a talented guitar player who has that classic 70's sound to his playing which really adds a lot of showmanship to this band. He has put out some solo albums over the years and has worked on projects with Gliby Clark, Eric Singer and many other heavy hitters. Ryan also hosts a very successful podcast, In the Trenches w/ Ryan Roxie that you can tune into on any one of your platforms that you listen to podcasts. He and Tommy seemed to be in step with each other and are a great duo. I was listening to the two of them warm up backstage before the show and it was such a treat to experience the preshow ritual.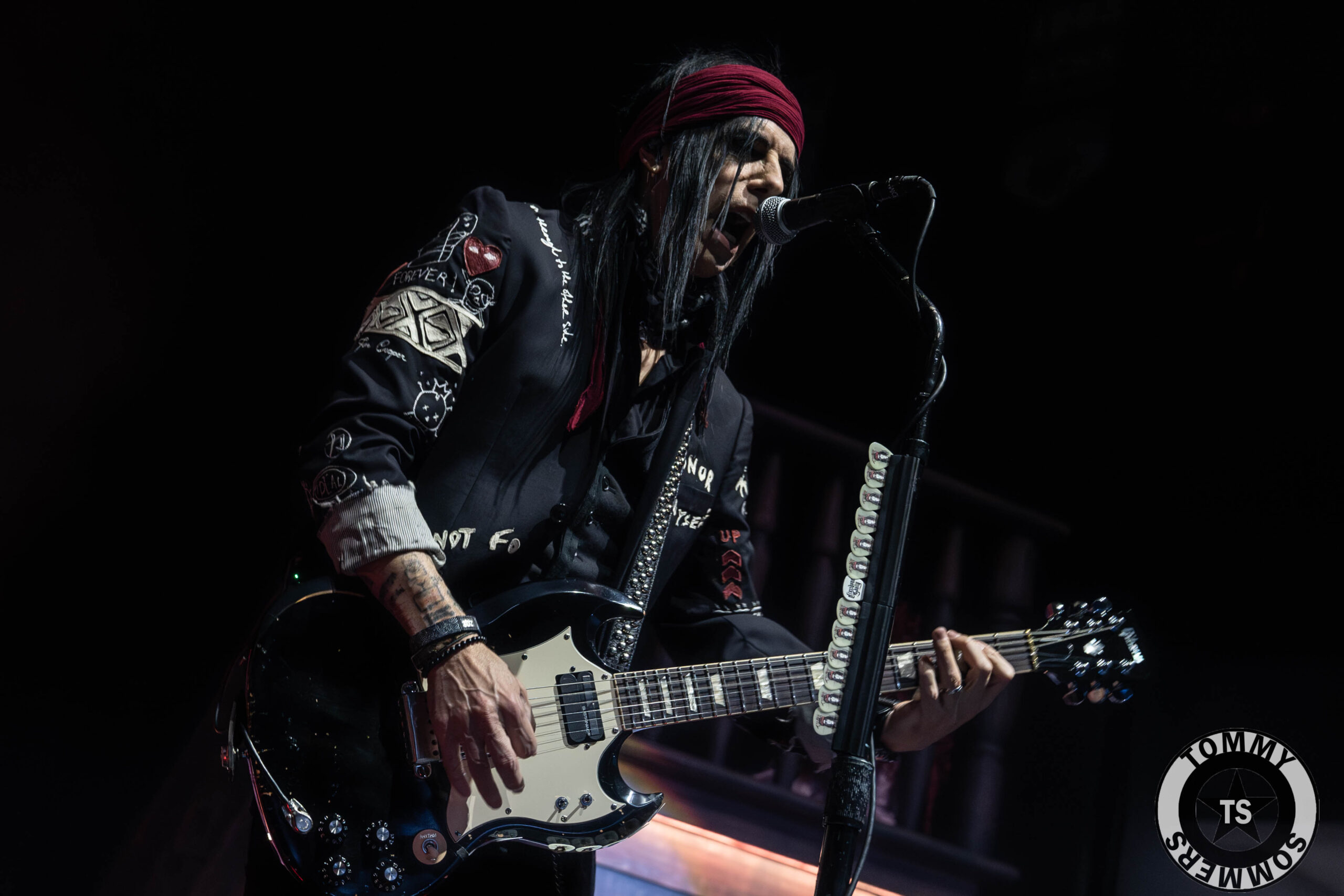 Chuck Garric is a monster bass player who has played bass for Billy Bob Thornton, Ted Nugent, Don Felder,  and many others. There's something about him that makes him perfect for this band. He is a very good entertainer that really loves music. He is also the bass player in Beasto Blanco that should be touring This summer as well in between the Alice Cooper gigs. As I mentioned earlier on in this article all these performers have incredible side projects going.
Nita Strauss Started out as the guitar player in The Iron Maidens, and all female tribute band to the iconic metal band Iron Maiden. She was in the house band for LA KISS, they played the national anthem and provided other music during the game. I think her big break came in 2014 when she replaced Orianthi in Alice Cooper's band. She is ridiculously talented and my wish for her is that fans will see her as a guitar player not a female guitar player. She's talented and is the icing on the cake for this group. The third guitar really adds so much to the sound of these classic songs. I don't know anybody that doesn't absolutely adore her. She seems to have her own fan base that not only comes to the Alice Cooper shows, but they support her solo career as well. Most of the stuff I've seen her perform so far when she's on her own are instrumentals. She has a new solo album forthcoming and will be touring this year to promote that in between the Alice Cooper tour.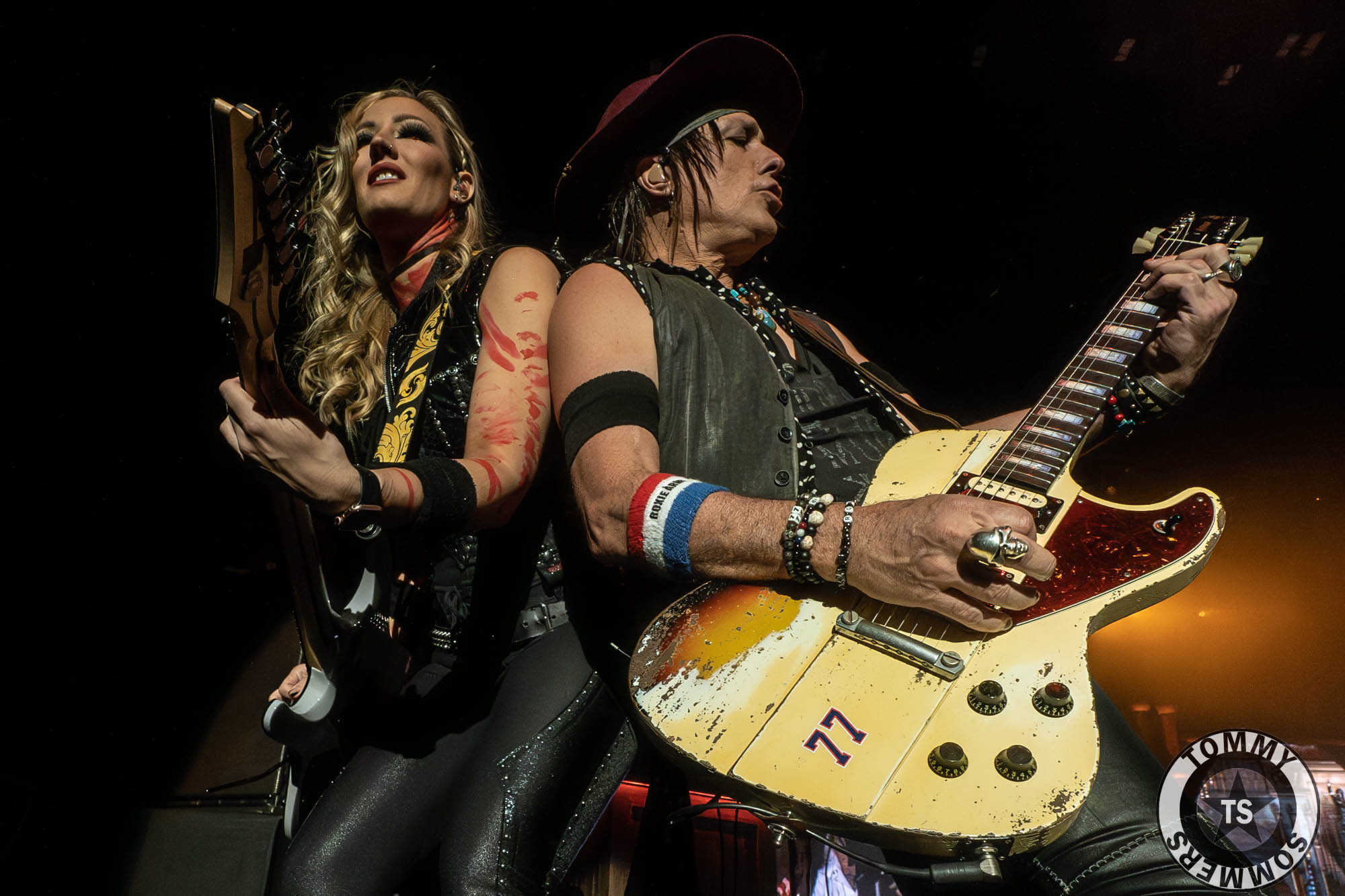 Glen Sobel The drummer is regarded as a musician's musician. Most drummers you speak to about Glen will tell you that he's so incredible there's no band he couldn't play for including some of the most intricate bands like Dream Theater. He is the backbone of all these songs. His resume includes  Mötley Crüe, Hollywood Vampires, Richie Sambora, Orianthi, Beautiful Creatures, to name just a few. He is also like the rest of very dynamic performer and is a lot of fun to watch. He also adds little nuances to the songs that don't change the song but add to it. I like it when musicians bring a little bit of their own artistry to the songs.
Lastly, I can't forget to mention Alice's wife, Sheryl Cooper. She is the other part of this extravagant production that adds so much to the storytelling of the songs. She is the one who comes out in all the elaborate costumes. She's a dancer and an entertainer. Her movement and facial expressions add so much to Alice's character. It wouldn't feel like an Alice Cooper show without her being a part of it. I chose to focus this review not only on the concert itself but also on the team. There's so much more to this than meets the eye and I wanted to point that out to all of you.
I'm sure some of you reading this will accuse me of writing a fluff piece and that's not what this was. This is genuinely how I feel about this incredible band, an amazing performer we know as Alice Cooper. This is part of my childhood that I don't have to give up. Every time I go to one of his shows it brings me back to being that teenage kid again. Hopefully every one of you reading this has that same feeling when you go to see Alice Cooper or another band. Those of you that read my reviews on a regular basis know that I only tell you the truth and how I feel about this situation. My recommendation is getting out there and see him this year. He'll be out on the road not only with the Hollywood Vampires in Europe but also a lot of Alice Cooper dates in the United States. There's also a fall run that he will be doing with Rob Zombie. There's plenty of chances for you to see him this year, so get out there and do it!